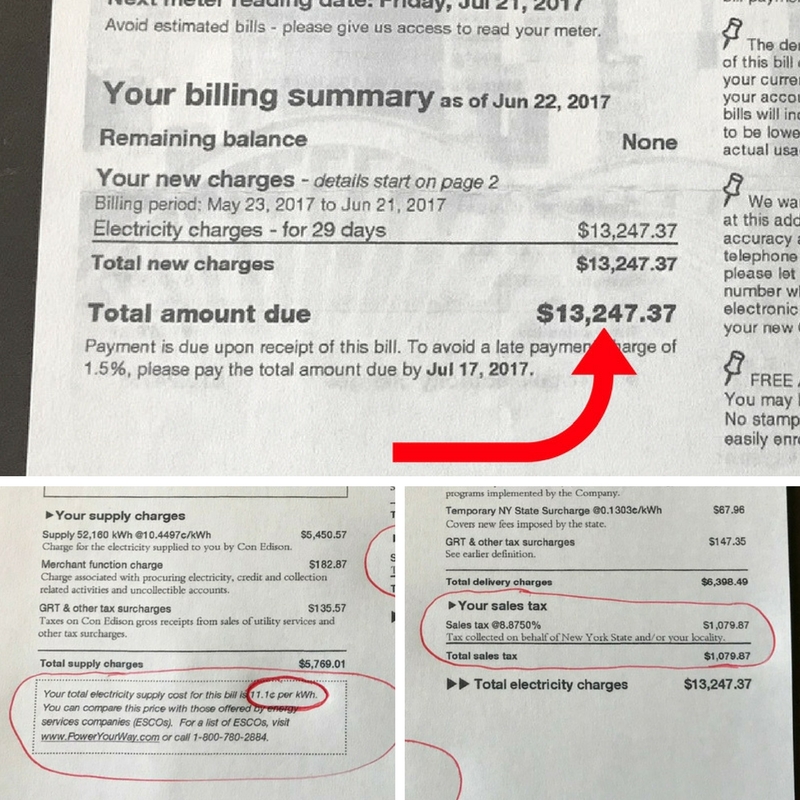 A popular supermarket located in New York City has a high electricity bill and has been looking for options that would enable them to reduce their monthly energy cost and save money.
Below are three images showing one of their recent electricity bills.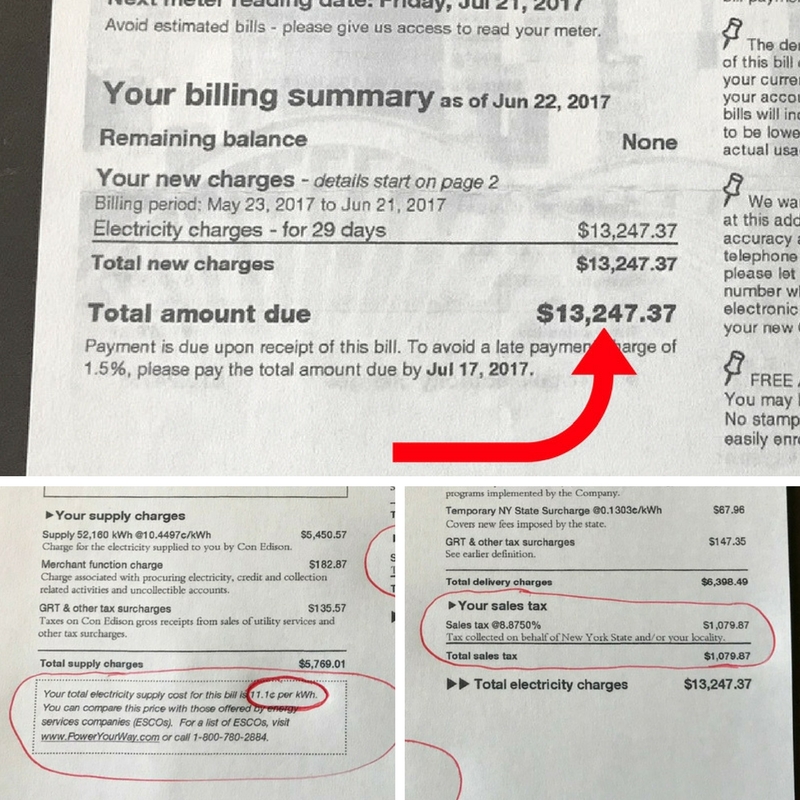 One of the ways for RK Energy Group to help this client was to shop around for energy providers that could offer a lower electricity rate and hence, reduce the high bill.
The client's utility, Con Edison, was charging 11.1 cents per kWh, circled in red in the lower left image above. The monthly electricity charge for June was a total of $13,247.37, including $1,079.87 in sales tax, which can be seen in the lower right hand image. Our goal was to reduce these monthly charges as much as we could.
We contacted the energy supply companies that we have long-standing relationships with and started to request proposals for lower electricity rates for our client. These included all-inclusive electricity rates and different contract lengths from numerous suppliers.
After reviewing the proposals with the client, we determined that a fixed rate of 8.26 cents per kWh for 2 years was the best and lowest choice.
This option had several benefits for my client. First, with a new fixed rate in place the client's monthly electricity bill will remain steady for 2 years, making it much easier for him to budget every month for his electricity bill.
Second, we reduced the electricity rate by over 25%, from 11.1 cents down to 8.26, saving the client approx. $1,800 a month. Annually this amounts to $21,600 per year in savings.
Third, when a customer switches to an energy company for their electricity or natural gas supply, Con Edison will reduce the sales tax from 8.875% to 4.5% on the delivery portion of the bill. Since Con Edison is encouraging customers to switch to an energy company, they have worked with NY state to offer lower sales tax as an added incentive for customers to switch to an energy supply company.
So this client will save an additional $300-400 per month, or approx. $4,000 per year, due to sales tax savings. When added to the annual rate savings of $21,600, this client will save about $25,600 per year in total.
Over a 2-year fixed rate contract the savings for this client will be approx. $51,200.
We were glad to help this client free up monthly cash flow that can help them succeed in the marketplace. They can now put these additional funds toward other areas of their business such as more inventory and/or product choices, energy efficiency upgrades, better lighting and refrigeration, additional staff, etc.
Contact us today for your free consultation.